Greetings all.
Why 1988 Score?  This set gets very little respect, and it probably doesn't deserve much in the long run.  But I like it.
Because twenty years ago, when I was seven years old, before I got into Topps, Donruss, Upper Deck and the like, the first packs of baseball cards I bought were 1988 Score.
A lot has happened in the world of baseball cards since I bought my last cards in 1994.  But a renewed interest has been sparked, and I wanted to go back where it all started.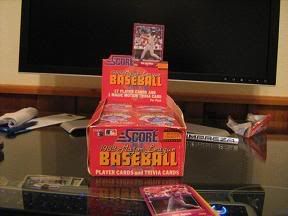 17 Player Cards and one Magic Motion Trivia Card. I'd forgotten about the Magic Motion Trivia Card.
The box isn't in the greatest of shape, but the first pack of cards are perfect. So, let's begin.
Pack 1
(6/12/08)
17 Dave Parker
12 Ozzie Smith
20 Tony Fernandez
170 Mike Pagliarula
175 Mike Greenwell
190 Terry Pendleton
312 Jose Nunez
328 Bill Dawley
392 Jose Rijo
397 Randy St. Claire
394 Willie Fraser
538 Walt Terrell
533 Scott Garrelts
536 Paul Kilgus
585 Bill Gullickson
600 Fernando Valenzuela
605 Chili Davis
Great Moments in Baseball (GMIB)
38 Polo Grounds, 10/3/51
Not a bad first pack. Certainly nothing to write home about, but I don't know how much of 88 Score is going to be worth writing home about. A few good players here, especially Ozzie Smith and Fernando.
What's interesting here though is Dave Parker and Jose Rijo. In 1988, Rijo was traded from Oakland to Cincinnati for Parker. The '88 Score set's photographs were taken during the '87 season and depict the two players in their old uniforms. Not interesting in and of itself, but fun to have both players in the same pack.
Parker was nearing the end of his
pretty good career
. While Rijo would become the eventual hero of the 1990 World Series against his former team.
For future installments, I'll try to get my scanner working, but seeing as I've had it since my freshman year in college (1999) it's not exactly compatible with my new computer.